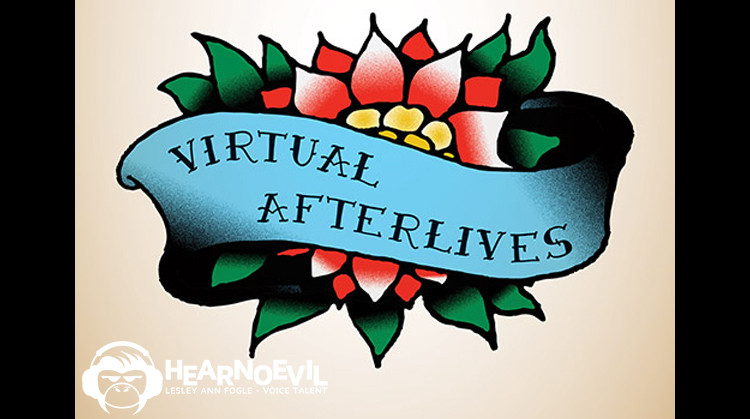 Virtual Afterlives: Grieving the Dead in the Twenty-First Century by Candi K. Cann, Sociology & Death, University of Kentucky Press, Redwood Audiobooks, Narrated by Lesley Ann Fogle, Release Date: September 13, 2016

For millennia, the rituals of death and remembrance have been fixed by time and location, but in the twenty-first century, grieving has become a virtual phenomenon. Today, the dead live on through social media profiles, memorial websites, and saved voicemails that can be accessed at any time. This dramatic cultural shift has made the physical presence of death secondary to the psychological experience of mourning.
Virtual Afterlives investigates emerging popular bereavement traditions. Author Candi K. Cann examines new forms of grieving and evaluates how religion and the funeral industry have both contributed to mourning rituals despite their limited ability to remedy grief. As grieving traditions and locations shift, people are discovering new ways to memorialize their loved ones. Bodiless and spontaneous memorials like those at the sites of the shootings in Aurora and Newtown and the Boston Marathon bombing, as well as roadside memorials, car decals, and tattoos are contributing to a new bereavement language that crosses national boundaries and culture-specific perceptions of death.
Examining mourning practices in the United States in comparison to the broader background of practices in Asia and Latin America, Virtual Afterlives seeks to resituate death as a part of life and mourning as a unifying process that helps to create identities and narratives for communities. As technology changes the ways in which we experience death, this engaging study explores the culture of bereavement and the ways in which it, too, is being significantly transformed.
The author examines four primary categories of popular memorialization, in an order that reflects the gradually disappearing body: (1) Bodiless memorials (2) Tattoo memorials, (3) Car-decal and T-shirt memorials, and (4) Internet and social network memorials.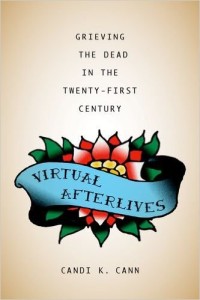 __________________________________________________________________
Candi K. Cann received her Ph.D. from Harvard University in the Study of Religion and is interested in the way in which the dead are remembered and memorialized by the living. She studies religious memorialization (martyrs) and popular forms of contemporary memorialization such as tattoo memorials and car decal memorials. She is an avid reader, traveler, and lover of poetry, but her passions are spending time with her family, friends and living well.
__________________________________________________________________
"With sensitivity and insight, Cann deftly charts a change in American mourning practices related to changing Western views of death as a privatized, bodiless experience. She brilliantly explains the rise of roadside memorials, car decals, and body tattoos as recent manifestations of first, a public seeking to mourn in a society that emphasizes life and hides death, and second, the removal of the body from the experience of death."
―Simon Bronner, Distinguished University Professor of American Studies and Folklore and director of the American Studies doctoral program at Pennsylvania State University, Harrisburg
"Cann argues that the way we grieve and memorialize the dead has shifted in recent years. She carefully takes the reader on a journey that reveals the metamorphosis of memorialization and ways of grieving that are more private today, yet at the same time are brought out into the public sphere in creative ways via cyberspace, tattoos, t-shirts, bodiless memorials, and automobile decals."
―George Dickinson, professor of sociology at the College of Charleston and author of Understanding Dying, Death and Bereavement