Opera Project Columbus wins Columbus' biggest arts awards for organizations with budgets under $1 million dollars. Congratulations!
It took me a while to post this–I am a one-person boutique with a lot happening. We're all navigating this overwhelming pandemic. But I want to note this project as I look back over 2021.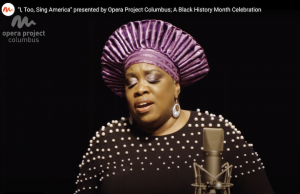 The content Opera Project Columbus programmed for Black History Month was choice. They chose from Rosephayne Powell's art-song collection tribute to Phillis Wheatley. "I Want To Die While You Love Me" is wonderfully dark and the text to that is great lyric writing. Dr Battle did a soulful interpretation of Moses Hogans' spiritual. The content choices, the singers, and the pianist were admirable. And I like that they had young Zion recite Langston Hughes' "I, Too, Sing America" then ended the program with Margaret Bonds' song portrait of the poem which Dr Bennett sang powerfully. She also beautifully sang "Since You Went Away" by Ohio's own Leslie Adams. They really deserved this recognition from Greater Columbus Arts Council. Congrats to Leslie McBride, the Maestro, and all at CAPA and OPC!
I was on the small nimble crew that created the "I Too, Sing America" video with Spyroll Studios. It wasn't a grueling shoot with long setups, several takes, or edits—didn't want to exhaust the singers. I sang opera a lifetime ago and was excited to handle sound. Love the promo shot with Dione Bennett in that cool nouveau headdress singing into my U87! Ai, ha. Lincoln Theatre graciously let me use their CL5 and opened their mic cabinet. Paul Kavicky made sure I got DPA 4099s from the Ohio Theatre. And Lincoln's manager Jim hooked me up—I asked if I could hang a couple of Neumann KM185s from the catwalk and he climbed up there and did it! Just cool people interested in facilitating the best sound. I had plenty of options to do quick budget-minded post-production.
Here is the award celebration video emceed by Angela Pace. Jump to 26:22 to hear about "I, Too, Sing America" and Opera Project Columbus!
And please do check out the "I Too, Sing America" video, the soundtrack for which has been widely shared with schools.