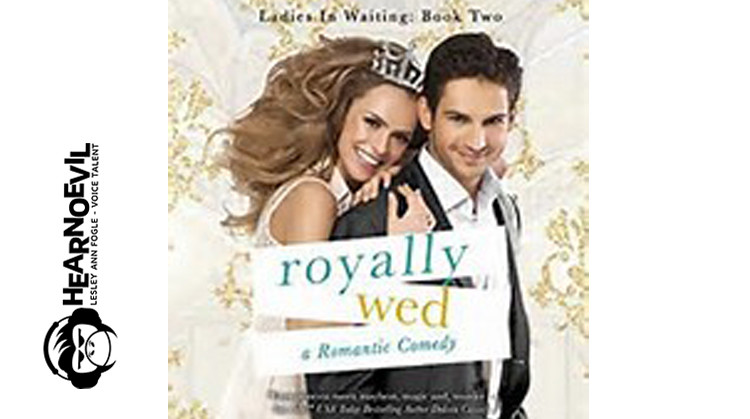 Royally Wed by Pamela DuMond, Fiction, Romantic Comedy, Narrated by Lesley Ann Fogle, Audiobook Release: April 26 2017
From USA Today Bestselling Author Pamela DuMond…
Ring the wedding bells, pour the champagne, and get thee to the cathedral for Royally Wed, the LOL sequel to Part-time Princess (Ladies-in-Waiting, #1)!
Lucy Trabbicio, former cocktail waitress and down-to-earth American commoner, is about to marry the man of her dreams, Prince Nicholas of Fredonia in the posh royal wedding of the year.
But something goes very wrong on the way to the altar. Now it's up to Lucy, her party-hard, take-no-prisoners Ladies-in-Waiting, and Nick's opinionated Royal Nana to solve the debacle, and get her back into sexy Prince Nick's arms in time to be Royally Wed, as well as royally bed.
______________________________________________________
USA TODAY Bestselling Author Pamela DuMond discovered and pitched the Erin Brockovich story to 'Hollywood.' She writes stories with heart, romance, some tears and always giggles.
LADIES-in-WAITING ROMANTIC COMEDY:
Part-time Princess (#1)
Royally Wed (#2)
Royally Wed: The Poser (#3)
Royally Wed: The Cock-up (#4)
Ladies-in-Waiting Box Set #1 : Books 1 – 3
MORTAL BELOVED Time Travel Romance:
The Messenger (#1)
The Assassin (#2)
The Seeker (#3)
Mortal Beloved Time Travel Romance Box Set
THE STORY of YOU and ME
ANNIE GRACELAND COZY MYSTERIES:
Cupcakes, Lies, and Dead Guys (#1)
Cupcakes, Sales, and Cocktails (#2)
Cupcakes, Pies, and Hot Guys (#3)
Cupcakes, Paws, and Bad Santa Claus (#4)
Cupcakes, Diaries, and Rotten Inquiries (#5)
Cupcakes, Bats and Scare-dy Cats (#6)
Cupcakes, Bars, and Rock Stars (#7)
Annie Graceland Cozy Mystery Box Set, #1
Annie Graceland Cozy Mystery Box Set, #2
To Live and Let Lie: A Theodore von Pumpernickel Secret Agent Cat Mystery, #1
Self-help:
Staying Young: Simple Techniques to Look and Feel Young.
Pamela loves the beach, working out, TV, movies, animals, her family and friends. She belongs to RWA, LARA, and lives in Venice, California with her fur-babies.