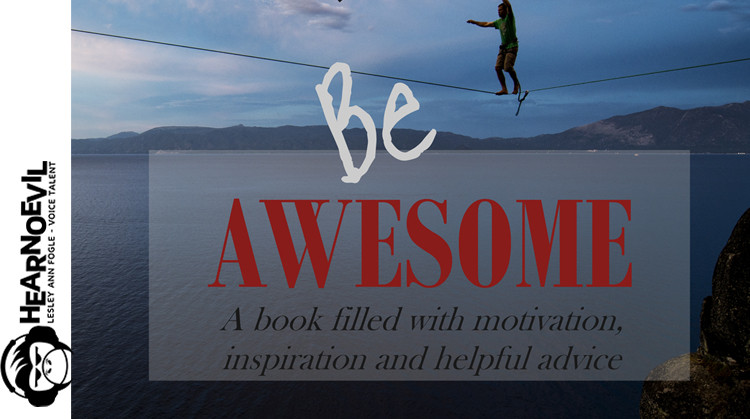 Be Awesome by Stacey Lee Ritz, Non-Fiction, Motivation & Inspiration / Self-Help, Rockville Publishing, Narrated by Lesley Ann Fogle, Audiobook Release Date: May 29 2017
"You know how every once in a while you do something and a little voice inside says, "There. That's it. That's why you're here."…and you get a warm glow in your heart because you know it's true? Do more of that." -Jacob Nordby
I've worked a lot of jobs. I've worked outside. In cubicles. In offices. At home. From my car. On a river. At a university. In schools. In kennels. In medicine. In food. In the woods. Behind a camera. With children. With senior citizens. In academia. And for world class jerks. I've been bored beyond belief. I've been exhausted from extremely long commutes. I've watched the excruciatingly slow minutes tick on the clock, knowing I had to put in my time and keep my derriere in my seat until the end of the scheduled day (even though there wasn't a lick of work in sight). I've cleaned urinals. I've picked through trash. I've scrubbed gates and floors on my hands and knees using a toothbrush.
On the flip side, I've found what I love. It was with me all along. The difference was, I finally opened my eyes and took notice. I didn't change anything about who I was, or am. I just let myself (finally) be that person, and that's when everything began to take shape. I'm here to help you find what you love to do and to encourage you to begin (or continue) your journey to your best life. Whether you're 19 or 85, it's never too late to start living a life you love. You're awesome, so be awesome. Small tweaks and everyday attitudes and actions make a big difference. Discover how to live your best life by utilizing the gifts already inside of you.
About the author:
Stacey Ritz is a bestsellingauthor and award winning writer. An empathetic and compassionatestoryteller, Ritz wrote for a plethora of local and national newsoutlets, magazines, blogs, and websites (copywriter), prior to becoming a novelist. Her book, Covered in Pet Fur  has gained attention from RIVA Media and Animal Planet. She is the Executive Director and co-founder of Advocates 4 Animals, Inc. – a 501(c)3 non-profit animal welfare organization that has saved more than 11,000 lives (and counting). She currently resides in Ohio. Ritz is published through RockvillePublishing. You can interact with Stacey online via her blog at staceyritzbooks.com, on Pinterest, and Instagram.
REVIEWS
"One-of-a-kind! A book that feels like a good friend. Motivating. Inspiring. Encouraging and filled with insightful, helpful stories." -Julie, Youth Write Now Mentor
"The perfect book for anyone who has a goal. A great gift for graduates, athletes–anyone who has a dream." -Runners Musings
"A fantastic book for every age!" -Amy Beatty, Author of Treadmill Workouts: 90 Treadmill Workouts for Every Runner
"Everyone needs a copy of this book. When I finished reading the book, I read it again. I bought copies for co-workers, friends and family. And I started thinking about my own life – my goals, my dreams. The book restored my enthusiasm toward everything I want my life to be. Get a copy of this book. You won't be disappointed!" -Patricia Lynn, RP Editor
"Whatever it is you want to do in this life, you can do it. Be Awesome is a must read and a book you will surely pick up again and again for years to come. Filled with motivation, stories and practical steps to reach your goals." -Advocates 4 Animals, Inc.
"Need motivation? Want to feel inspired? Want a dose of happiness? Want a reminder that you are AWESOME? Look no further- you'll find it all in Stacey Ritz's book, Be Awesome: How to Live Your Best Life. If you want to live your best life, this is a must read. I loved picking up the book each time to read and I never wanted to put it down- but each time I did, I felt happy. I felt motivated. I felt read to go after all of my goals." -OSN