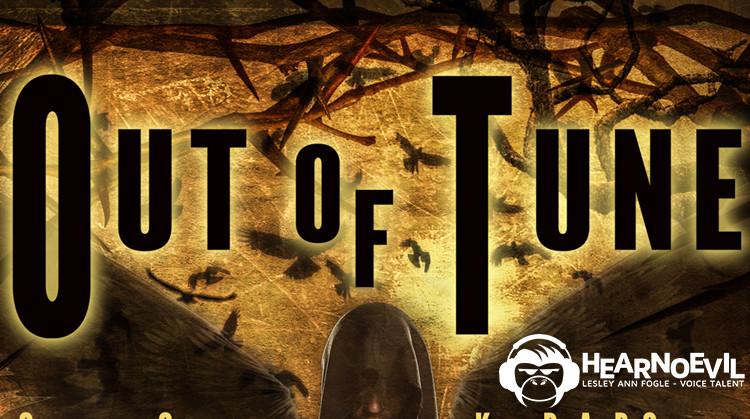 Out of Tune edited by Jonathan Maberry.
A collection of ballads written by Christopher Golden, Jack Ketchum, Kelley Armstrong, Lisa Morton, Simon R. Green, Nancy Holder, Seanan McGuire, David Liss, Del Howison, Gary Braunbeck, Gregory Frost, Jeff Strand, Keith R.A. DeCandido, Jeff J. Mariotte & Marsheila Rockwell. Edited by Jonathan Maberry. Commentary by Nancy Keim Comley
---
Anthologies, JournalStone, Audio Realms Publishing, Narrated by Lesley Ann Fogle and Peter Bishop, Audiobook Release Date: October 2015

---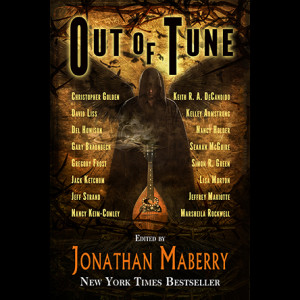 Out of Tune is calling.
A song half-heard. The murmur of a voice singing in the dark. There it is again … a few words set to an old melody filled with mystery, heartbreak and horror.
Out of Tune gathers a collection of original dark fantasy tales inspired by folk ballads. Here you'll find stories of strange creatures and strangers humans, treachery and love, murder and monsters.
Out of Tune brings together some of today's most talented writers and sets them loose in that swirling darkness at the edge of town. NY Times bestselling author and editor Jonathan Maberry unleashes his own brand of dark forces with a line-up of bestsellers and award winners. Kelley Armstrong, Jack Ketchum, Simon R. Green, Seanan McGuire, Christopher Golden, David Liss, Gregory Frost, Keith R.A. DeCandido, Jeff Strand, Lisa Morton, Jeff J. Mariotte & Marsheila Rockwell, Nancy Holder, Del Howison, and Gary Braunbeck. With commentary on each source ballad by folklorist Nancy Keim-Comley.
Now get ready to dance to the music of the night.
_________________________________________________________________________
Bios from The Contributors section of Out of Tune:
CHRISTOPHER GOLDEN is the award-winning, bestselling author of such novels as The Myth Hunters, Wildwood Road, The Boys Are Back in Town, The Ferryman, Strangewood, Of Saints and Shadows, and (with Tim Lebbon) The Map of Moments. He has also written books for teens and young adults, including Poison Ink, Soulless, and the thriller series Body of Evidence, honored by the New York Public Library and chosen as one of YALSA's Best Books for Young Readers. Upcoming teen novels include a new series of hardcover YA fantasy novels co-authored with Tim Lebbon and entitled The Secret Journeys of Jack London. A lifelong fan of the "team-up," Golden frequently collaborates with other writers on books, comics, and scripts. In addition to his recent work with Tim Lebbon, he co-wrote the lavishly illustrated novel Baltimore, or, The Steadfast Tin Soldier and the Vampire with Mike Mignola. With Thomas E. Sniegoski, he is the co-author of multiple novels, as well as comic book miniseries such as Talent and The Sisterhood, both currently in development as feature films. With Amber Benson, Golden co- created the online animated series Ghosts of Albion and co- wrote the book series of the same name. As an editor, he has worked on the short story anthologies The New Dead and British Invasion, among others, and has also written and co-written comic books, video games, screenplays, the online animated series Ghosts of Albion (with Amber Benson) and a network television pilot. The author is also known for his many media tie-in works, including novels, comics, and video games, in the worlds of Buffy the Vampire Slayer, Hellboy, Angel, and X-Men, among others. www.christophergolden.com
DAVID LISS is the author of eight novels, most recently The Day of Atonement. His previous bestselling books include The Coffee Trader and The Ethical Assassin, both of which are being developed as films, and A Conspiracy of Paper, which is now being developed for television. Liss is the author of numerous comics, including Mystery Men, Sherlock Holmes: Moriarty Lives and Angelica Tomorrow. www.davidliss.com
DEL HOWISON Along with his wife Sue, Del owns Dark Delicacies, "America's Home of Horror." He is a Bram Stoker Award winning editor and multi-nominee as well as having been nominated for a Shirley Jackson and the Black Quill awards. His short story "The Lost Herd" was retitled to Sacrifice and released as the premiere episode of the horror television series Fear Itself on NBC.
GARY BRAUNBECK is the prolific author of 25 books, as well as nearly 250 short stories. He is a multiple Bram Stoker Award winner and as won the International Horror Guild Award. He is a past-president of the Horror Writers Association. His fiction has been translated into Japanese, French, Italian, Russian and German. www.garybraunbeck.com
GREGORY FROST is a writer of dark fantasy, SF, Young Adult, and historical thriller fiction. He has been a finalist for every major fantasy genre award. His latest novel-length work is the YA-crossover "Shadowbridge" duology; voted "one of the four best fantasy novels of the year" by the ALA. His historical thriller, Fitcher's Brides, was a Best Novel finalist for both World Fantasy and International Horror Guild Awards. Other Frost short stories appear in Ellen Datlow's Supernatural Noir anthology, and in V-Wars, edited by Jonathan Maberry. He directs the fiction writing program at Swarthmore College. He is the co-founder of the Liars Club. www.gregoryfrost.com
JACK KETCHUM is an American author. He is the recipient of four Bram Stoker Awards and three further nominations. Many of his novels have been adapted to film, including The Girl Next Door and Red. www.jackketchum.net
JONATHAN MABERRY is a NY Times bestselling author, multiple Bram Stoker Award winner, and comic book writer for Marvel, Dark Horse and IDW. His novels include Code Zero, Rot & Ruin, Fall Of Night, Ghost Road Blues, Patient Zero, The Wolfman, and many others. Nonfiction books include Ultimate Jujutsu, The Cryptopedia, Zombie Csu, and others. Several of Jonathan's novels are in development for movies or TV including V-Wars, Extinction Machine, Rot & Ruin and Dead of Night He's the editor/co-author of V-Wars, a vampire-themed anthology, and is editing a series of all original X-Files anthologies. He was a featured expert on The History Channel special Zombies: A Living History. Since 1978, he's sold more than 1200 magazine feature articles, 3000 columns, two plays, greeting cards, song lyrics, and poetry. His comics include V-Wars, Rot & Ruin, Captain America: Hail Hydra, Bad Blood, Marvel Zombies Return and Marvel Universe Vs The Avengers. He lives in Del Mar, California with his wife, Sara Jo and their dog, Rosie. www.jonathanmaberry.com
JEFFREY J. MARIOTTE is the award-winning author of more than fifty novels, including supernatural thrillers Season of the Wolf, Missing White Girl, River Runs Red, and Cold Black Hearts, horror epic The Slab, the Dark Vengeance teen horror quartet, and others. He also writes comic books, including the long-running horror/ Western comic book series Desperadoes and original graphic novel Zombie Cop. With writing partner Marsheila Rockwell, he has published short fiction and is working on more. He has worked in virtually every aspect of the book business, as a writer, editor, marketing executive, and bookseller. He lives in southeastern Arizona. www.jeffmariotte.com
JEFF STRAND is the four-time Bram Stoker Award nominated author of such books as Pressure, Dweller, A Bad Day For Voodoo, and Wolf Hunt. He lives in Tampa, Florida, and because he cares about your ears, he lets others do the singing where folk ballads are concerned.
KEITH R.A. DeCANDIDO is the international, best-selling, award-winning author of more than 50 novels as well as dozens of short stories, novellas, comic books, and blog entries. His many works of fiction in media universes such as Star Trek, Supernatural, World of Warcraft, Doctor Who, Spider-Man, Buffy the Vampire Slayer, Farscape, Leverage, and more won him a Lifetime Achievement Award from the International Association of Media Tie-In Writers in 2009. Recent and upcoming work ranges from the Sleepy Hollow novel Children of the Revolution to the acclaimed "Precinct" series of fantasy police procedurals (Dragon Precinct, Unicorn Precinct, Goblin Precinct, Gryphon Precinct and Tales from Dragon Precinct) to the Star Trek coffee table book The Klingon Art of War to the short story collection Ragnarok & Roll: Tales of Cassie Zukav, Weirdness Magnet (which features the protagonist of "Fish Out of Water"). He has also contributed to the anthologies Bad-Ass Faeries: It's Elemental, More Tales of Zorro, Stargate: Far Horizons, V-Wars Volumes 1 & 3, and The X-Files: The Truth is Out There, and he's also a regular blogger for Tor.com, doing a twice-weekly rewatch of Star Trek: Deep Space Nine. www.DeCandido.net
KELLEY ARMSTRONG is a #1 New York Times bestseller. She has published eighteen fantasy novels to date, set in the world of the Women of the Otherworld and the Darkest Powers series, also two crime novels in 2007 and 2009. www.kelleyarmstrong.com
LISA MORTON is a screenwriter, author of non-fiction books, award-winning prose writer, and Halloween expert whose work was described by the American Library Association's Readers' Advisory Guide to Horror as "consistently dark, unsettling, and frightening." Her most recent releases include the novella By Insanity of Reason (co-authored with John R. Little) and the novel Zombie Apocalypse: Washington Deceased. She lives in North Hollywood, and can be found online at www.lisamorton.com.
MARSHEILA (MARCY) ROCKWELL is the author of The Shard Axe series, the only official novels that tie into the popular MMORPG, Dungeons & Dragons Online. She has two collections out now (Tales of Sand and Sorcery and Bridges of Longing and Other Strange Passageways), and is currently hard at work on the second book in a trilogy based on Neil Gaiman's Lady Justice comic books. "John Barleycorn Must Die" is her second published collaboration with writing partner Jeffrey J. Mariotte. The first, "A Soul in the Hand," can be found in the Neverland's Library anthology from Ragnarok Publications. www.marsheilarockwell.com
NANCY HOLDER is a New York Times bestselling author (the dark fantasy series Wicked) who has written over seventy novels, and two hundred short stories, essays, and articles, many of which have appeared in "Best of" anthologies. She has received five Bram Stoker awards and a Scribe award for her supernatural fiction, as well as a Pioneer award from Romantic Times for her young adult fiction. She also received a Special Sales Award from amazon.com. She is well known for her work on such fantasy properties as Buffy the Vampire Slayer, MTV Teen Wolf, Saving Grace, Hellboy, Hulk, Highlander, and many others. She has written two retold fairy tales for Simon and Schuster's Once Upon a Time series, and a nursery rhyme retelling ("The Lion and the Unicorn") for Month 9 Books. Many of her MFA students have explored dark fantasy retellings in their third semester projects. She will be the Author Guest of Honor at the 2014 World Horror Convention. www.nancyholder.com
SEANAN McGUIRE is the New York Times Bestselling fantasy author of the October Daye series, and the InCryptid series, both published by DAW Books. She won the John W. Campbell Award in 2010, and was the first person to be nominated for the Hugo Awards five times in a single year. Seanan majored in folklore and mythology at the University of California Berkeley (go Bears!), and periodically vanishes into haunted corn mazes for days at a time. She lives in Northern California, where she writes stuff. She also writes as Mira Grant, author of the Newsflesh series, and talks about horrible things at the dinner table. www.seananmcguire.com
SIMON GREEN was born in Bradford-on-Avon, Wiltshire, England (where he still resides), in 1955. He has obtained an M.A. in Modern English and American Literature from Leicester University and he also studied history and has a combined Humanities degree. His writing career started in 1973, when he was a student in London. His first actual sale was a story titled "Manslayer," back in 1976, but it didn't appear till much later; Awake, Awake…. was his first sale to a professional editor in 1979. Furthermore, he sold some six or seven stories to semi-pro magazines before that market disappeared practically overnight. After years of publishers' rejection letters, he sold an incredible seven novels in 1988, just two days after he started working at Bilbo's bookshop in Bath (this after three and a half years of being unemployed!). This was followed in 1989 by two more, and a commission to write the bestselling novelization of the Kevin Costner film Robin Hood: Prince of Thieves, which has sold more than 370,000 copies. www.simonrgreen.co.uk
NANCY KEIM COMLEY has a degree in English and a Master's in Folklore from Western Kentucky University. She has written about and been published on diverse topics such as the death, burial and funerary rites of an African American community and a storyteller in Tennessee.