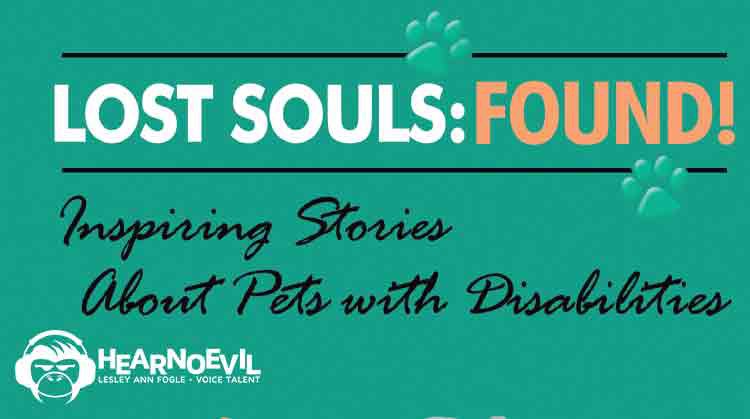 Lost Souls: Found! Inspiring Stories About Pets With Disabilities Vol.1
Nonfiction, Motivation & Inspiration, Happy Tails Publishing, October 2013
Some people with giant hearts set out to help pets with disabilities. Other people somehow come to have special-needs pets before they realize how blessed they are to have received the pet they needed, even if it wasn't necessarily the pet they wanted at first. Whatever the case, many people find that their "special-abled" pets have added a new dimension to their lives that no readily-adoptable pet ever could. The book is for them!
Since 2009, the heartwarming "Lost Souls: FOUND!" series has entertained and inspired people, helping many to see the rewards of adopting abused, neglected, and "less-adoptable" animals. This next book in the series is focused specifically on animals who have overcome (or are working to overcome) disabilities. There is no way around it: these stories will inspire YOU!
A SIGNIFICANT PORTION OF PROCEEDS FROM EVERY SALE IS DONATED BACK TO RESCUE GROUPS.
Excerpt:The "D" Word: Many people use the word 'disability' to describe you and me. Some things we do well, and some things we don't, but it's not because we don't try. There are many words that start with 'D' that better describe us: Daring, Driven, Dedicated, Determined, Diligent, Dauntless, Dashing, Dapper, Delightful, Devoted, Dignified, Dynamic, Dandy. We're not disabled. We're uniquely-enabled, and we can do amazing things." –Eric Melvin, inspired by Angelyne "The Amazing" DEAF Cattle Dog
Categories

Client

Happy Tails Publishing