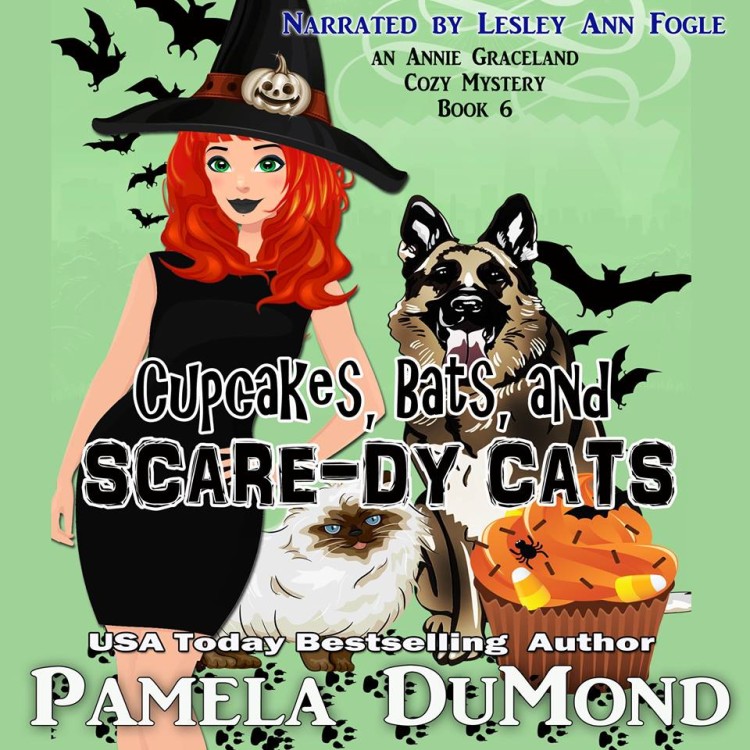 Cupcakes, Bats, and Scare-dy Cats by Pamela DuMond, Book #6 in the pet-friendly Annie Graceland Cozy Mystery Series, Audiobook Release Date April 2016
Annie Graceland has a pinch of PSYCHIC ABILITY… it turns out her CAT, Theodore, does too!
Annie's dog sitting for her new neighbor, but her creepy apartment manager, Anthony Spiggottini, accuses her of violating the "No Dogs Allowed" lease, and threatens to evict her.  She's at a Halloween party when Anthony busts into her place, and literally lets the dog and cat out! She'd gladly have killed him, but someone beats her to it. Now Annie's desperately searching for her lost cat while dealing with Anthony's ghost who refuses to accept he's dead.
It's a good thing she doesn't know that Theodore her cat, Mozart the dog, and Bloody Mary, (the spirit cat they conjured), are running loose on Venice streets, sniffing out Anthony's murder suspects!
_____________________________________________________
PRAISE for the ANNIE GRACELAND CUPCAKES BOOKS:
"The animals win this one." – Jeanie Jackson, A. Reviewer
"One part Ghost Whisperer, two parts Stephanie Plum, shake and stir and you have Annie Graceland!" – Dakota Cassidy, USA Today Bestselling author of The Accidentals
"A funny mystery… that's a double treat if you ask me!" – Marcia Wallace, Emmy Award Winning Actress, The Simpsons
_____________________________________________________
Pamela DuMond writes stories with heart, romance, some tears and always giggles.
New Adult:
Part-time Princess (Ladies-in-Waiting, #1) Contemporary Romance, Romantic Comedy
-> ROYALLY WED: A Romantic Comedy (Ladies-in-Waiting, #2) comes out in 2016! <-
The Story of You and Me (Driven, #1).
YA:
The Messenger (Mortal Beloved, #1) a romantic time-travel thriller. [optioned for film/TV]
The Assassin (Mortal Beloved, #2)
The Seeker (Mortal Beloved, #3) to be published summer, 2015.
Romantic, comedic mysteries featuring Annie Graceland — a psychic, female amateur sleuth:
Cupcakes, Lies, and Dead Guys
Cupcakes, Sales, and Cocktails – A Novella
Cupcakes, Pies, and Hot Guys
Cupcakes, Paws, and Bad Santa Claus – A Novella
Annie Graceland Cupcakes Mysteries: Boxed Set
Cupcakes, Diaries, and Rotten Inquiries
Non-Fiction Health and Beauty: Staying Young