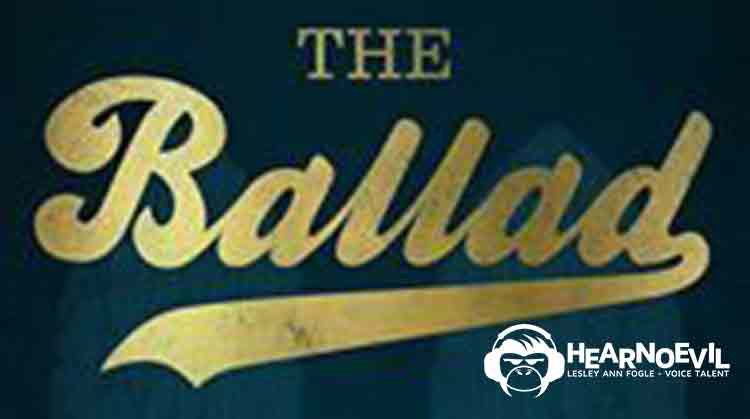 The Ballad by Ashley Pullo
The Ballad (The Bridge Series) by Ashley Pullo, Contemporary Romance, Gimlet Girls Publishing, Narrated by Lesley Ann Fogle, Audiobook Release Date: July 2014
Excerpt:  A pregnant Chloe LeGrange's water breaks at Starbucks. At the hospital, she encounters peppy nurses, her husband Adam, her snarky cousin Natalie, and Doctor Wong.
_______________________________________________________
Book Synopsis:
Two Lovers.
Two Dreamers.
One Love Song.
Locations: New York City (Cobble Hill, Brooklyn Heights, TriBeCA)
Las Vegas, San Francisco
Setting: 2003-Present day
Characters:
Chloe LeGrange Ford – talented musician craving resolve
Adam Ford – handsome attorney longing for a revelation
Natalie LeGrange Brooks – creative free-spirit dreaming of the stars
Chris Brooks – sexy Texan waiting for the right time
Objective:
Authentic situations and original characters capture the intimate moments in a timeless love story.
Themes:
Patience, impulse, pride, joy, and undeniable sexual attraction.
Genre:
Indie/Romance/Drama/Humor
The Ballad is a love song following dreamers and lovers over a span of ten years. Set against the picturesque backdrop of New York City and paired with a reverse narrative, their story is an original retelling of what it means to find the happily ever after in the midst of the journey.
_____________________________________________________
Residing in New York with her husband and two children, Ashley Pullo is an author, entertainment blogger, and an advocate for television therapy. She is the author of The Ballad, The Album, The Love Letters, The Refrain, and Intermission. Her work also appears in the anthology, SHIVER: 13 Sexy Tales of Humor and Horror
Categories

Author

Ashley Pullo