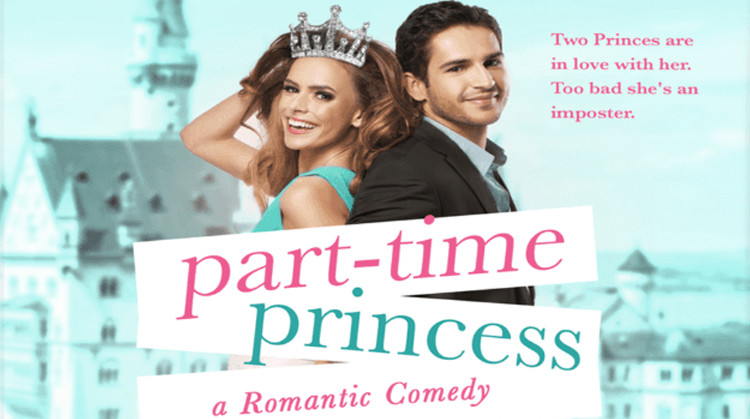 Part-Time Princess by Pamela DuMond
Part-Time Princess (Ladies In Waiting, #1) by Pamela DuMond, Contemporary Romance, Romantic Comedy, Audiobook Release Date: September 2014
Excerpt: Fired from her job as a cocktail waitress for pouring drinks on a group of pigs, Chicagoan Lucy Trabbicio scans the newspaper want ads for a new job.
_____________________________________________________
USA Today Bestselling author, Pamela DuMond, pitched the real life ERIN BROCKOVICH story to 'Hollywood', where it became the smash hit movie. Now she brings readers PART-TIME PRINCESS, a LOL Romantic Comedy, the first book in the hilarious LADIES-in-WAITING Series!
Two Princes are in love with Lucy. Too bad she's an imposter…Lucy's a down-on-her luck cocktail waitress desperate to find a job to keep her beloved uncle at Assisted Living. Lady Elizabeth hires Lucy to impersonate her for "ten days tops", while she completes her pressing personal business in the States. The goal: keep Prince Cristoph of Fredonia's wandering eye in check until the real Elizabeth can return. In the mother of all makeovers, Elizabeth's people transform Lucy into a reluctant 'Lady', and she travels to Fredonia for her top-secret job. What could possibly go wrong? Sexy, bad-boy Prince Nicholas of Fredonia, Cristoph's younger brother — that's what goes wrong! Nick has a romantic history with the real Elizabeth and wants to pick up the action with her impersonator, Lucy. She's wildly attracted to him, but must resist–she can't lose this paycheck! Elizabeth's wild, party hard, well-intentioned Ladies-in-Waiting take Lucy under their wing, and get her in more trouble. Dreamy Nick's courting her hot and heavy, but Prince Cristoph proposes marriage. What's an imposter girl to do? A modern day, sexy tale with romance, twists and turns, laughter, a few tears, and a Happily-Ever-After ending (just not the way you expected it!)
"…what female doesn't dream of being a princess and swept off her feet by a handsome prince." ~ Carole GR Reviewer "It's My Fair Lady meets Ms. Congeniality…" ~ Sara Steven at Chick Lit Central Blog "Why can't I be a Part-Time Princess?! Amazing, I loved this book!!" ~ London Dreaming "This is a flirty fun read." ~ Karen's Book Haven "AHHHHH I LOVELOVELOVE this Book!" ~ Maryam Dinzly
_____________________________________________________
Some audiobook review excerpts from listeners on Audible:
5 Stars! "Part-time Princess is a great entertainer"   • "Pamela DuMond wrote a fun filled book and Lesley Ann Fogle's narration only added to the awesomeness of it all."  •  "A rollicking good time! PART- TIME PRINCESS: LADIES-IN-WAITING BOOK 1 is laugh out loud funny. Full of quirky characters that you will adore, this is a not to miss story. Lesley Ann Fogle does a fantastic job with the different voices and makes a great story a joyful experience to listen to."  •  "Fun Fairytale Read!!! I absolutely loved the narrating by Lesley Ann Fogle, it turned a great book into a fun enjoyable story. This is such a refreshing entertaining book and I really enjoyed it so much I finished in one sitting. The characters are very well developed and likable, I really enjoyed Lucy she was fun. This is my first book by Pamela DeMond and it will not be my last, she is an amazing author."  •  "5 Stars! Very Sweet!" • "This is a snort out loud funny book"  •  "Great job to the narrator"  •  "Lesley Ann Fogle's narration of Part-time Princess is wonderfully appropriate. She has the lightness of voice to be appropriate to an adrift 20-something and invested Lucy with a wonderful personality. There were moments where it seemed the narrator was really enjoying the work and embodying the fish out of water, Lucy."
_____________________________________________________
Pamela DuMond writes stories with heart, romance, some tears and always giggles.
New Adult:
Part-time Princess (Ladies-in-Waiting, #1) Contemporary Romance, Romantic Comedy
-> ROYALLY WED: A Romantic Comedy (Ladies-in-Waiting, #2) comes out in 2016! <-
The Story of You and Me (Driven, #1).
YA:
The Messenger (Mortal Beloved, #1) a romantic time-travel thriller. [optioned for film/TV]
The Assassin (Mortal Beloved, #2)
The Seeker (Mortal Beloved, #3) to be published summer, 2015.
Romantic, comedic mysteries featuring Annie Graceland — a psychic, female amateur sleuth:
Cupcakes, Lies, and Dead Guys
Cupcakes, Sales, and Cocktails – A Novella
Cupcakes, Pies, and Hot Guys
Cupcakes, Paws, and Bad Santa Claus – A Novella
Annie Graceland Cupcakes Mysteries: Boxed Set
Cupcakes, Diaries, and Rotten Inquiries
Non-Fiction Health and Beauty: Staying Young