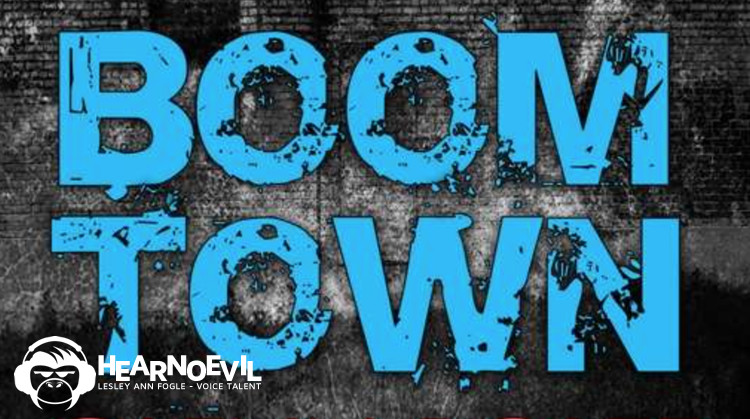 Boomtown by Glenn Rolfe
Horror, Samhain Publishing, Audio Realms Publishing, Narrated by Lesley Ann Fogle, Audiobook Release Date: Fall 2015
Terror from below!
In the summer of 1979, Eckert, Wisconsin, was the sight of the most unique UFO encounter in history. A young couple observed a saucer-like aircraft hovering over Hollers Hill. A blue beam blasted down from the center of the craft into the hill and caused the ground to rumble for miles.
Now, thirty years later, Eckert is experiencing nightly rumbles that stir up wild rumors and garner outside attention. The earthly tremors are being blamed on everything from earthquakes to underground earth dwellers. Two pre-teens discover a pipe out behind Packard's Flea Market uprooted by the "booms" and come into contact with the powerful ooze bubbling from within. What begins as curiosity will end in an afternoon of unbridled terror for the entire town.
___________________________________________________
Reviews on the book:
"Boom Town brings a bit of the classic sci-fi horror feel back to a whole new generation of readers." – Book Worm Reviews
"Boom Town is a fun, fast-paced read packed with action, copious amounts of alien slime and an aura of creepiness that is sure to appeal to both Horror and Science Fiction fans." – The Horror Bookshelf
"I couldn't wait to find out what happened next…Horror and Sci-Fi lovers everywhere will want to grab this 5-star read!" – Horror Maiden's Book Reviews
"Glenn Rolfe's writing is a breath of fresh air, followed by a jolt of adrenaline." – Iain Rob Wright, author of The Final Winter
"I love Horror and Sci-Fi. Put them together in a well-crafted blend and I'm a happy reader. Boom Town proved to be just such a blend." –Catherine Cavendish, author of The Pendle Curse
"Boom Town is an alien invasion novel with teeth…blue gelatinous teeth, to be exact. Rolfe weaves a wonderful tale of big, bad things happening to a small, good town. A sure winner!" – Hunter Shea, author of The Montauk Monster
______________________________________________________
Glenn Rolfe is an author, singer, songwriter and all around fun loving guy from the haunted woods of New England. He has studied Creative Writing at Southern New Hampshire University, and continues his education in the world of horror by devouring the novels of Stephen King and Richard Laymon. He and his wife, Meghan, have three children, Ruby, Ramona, and Axl. He is grateful to be loved despite his weirdness.
He is the author the ghost/mystery/thriller novella, ABRAM'S BRIDGE (Samhain Publishing, 2015) and his latest novella, a Horror/Sci-Fi mash-up, BOOM TOWN (Samhain Publishing).
His debut novel, THE HAUNTED HALLS (James Ward Kirk Publishing, 2014), is available now, as well as his short story collection, SLUSH (Alien Agenda Publishing, 2014).
_____________________________________________________
Categories

Author

Glenn Rolfe