Welcome to my new website! Special thanks to the talented Aaron Yeagle of Author Platform Guru for his, well, guru skills. And thanks to Constantine Hondroulis for his management skills.
Highlights this week include wearing scrubs for a medical training shoot, eyeing the finish line on my current audiobook, and making it through week three of the plank challenge.
The medical training videos were shot here in Columbus on multiple Red cameras by owner/operators Lance Meaux and Chris Hagan (DP). They both do beautiful work and are a lot of fun on the set. Worked with Chris Carson (AC, PA) for the first time and was very impressed by how he made himself indispensable on the set and did so with relaxed ease. I was field mixer, using the Sound Devices 664 mixer/recorder: great sounding pres, ample routing options, and an internal recorder that can be set to record polyphonic WAV files to CF and SD cards. I love that option because for 50 camera takes, each involving 6 channels (5 lavs and a backup boom), you have 50 WAV files that each contain 6 tracks when imported into ProTools or Final Cut. You don't have to handle 300 tracks. The editor can solo say the boom track as scratch, make the other 5 tracks inactive, and group/lock those 6 tracks per take for the edit. Then your post engineer knows everything there is to work with when they get the OMF back. I'll blog about using all of the tracks to cut the best final audio when we get to the post-production stage of that project. This is where you want a post audio engineer with experienced ears as you can't just set up an EQ on a channel and expect that to be the right filter on a moving target. I'm sure this process sounds obvious to my audio engineer friends, but I think video folk will get something out of it. To my voice talent friends, the producer hooked me UP on that shoot and I will also be narrating the medical training videos!
I am two chapters away from finishing the narration for Windwood Farm (Taryn's Camera, Book 1) by Rebecca Howard-Patrick. The series focuses on Taryn Magill, an artist/photographer who uses her oil-painting skills and her degrees in Art and Historical Preservation to create portraits of grand buildings as they would have been when they were created, long before they fell into disrepair. Further, Taryn uses determination and her burgeoning psychic abilities along with her camera's burgeoning ability to develop actual pictures of the past to solve the mysteries behind the paranormal encounters she experiences while on the job. I love this book. It ties into many things I value: historic preservation, the paranormal, the American gothic vibe. My first engineering experiences in my teens involved gathering EVP recordings…this was in the late 80s, pre-internet, before I could discover what the masses knew about EVP. Ok, and I love historic houses. My husband and I painstakingly restored our Craftsman-style house to life in Columbus' first, historic neighborhood. We geek out on the researching the history and treat our house like family. In other words, I love the subject; and when I looked over the script for Windwood Farm and read about Taryn's connection and even conversation with these grand old inanimate objects, I was hooked. Taryn herself gets so immersed in her work that she can come off as aloof and she has a healthy sense of sarcasm to boot.
Finally, the plank challenge. See this?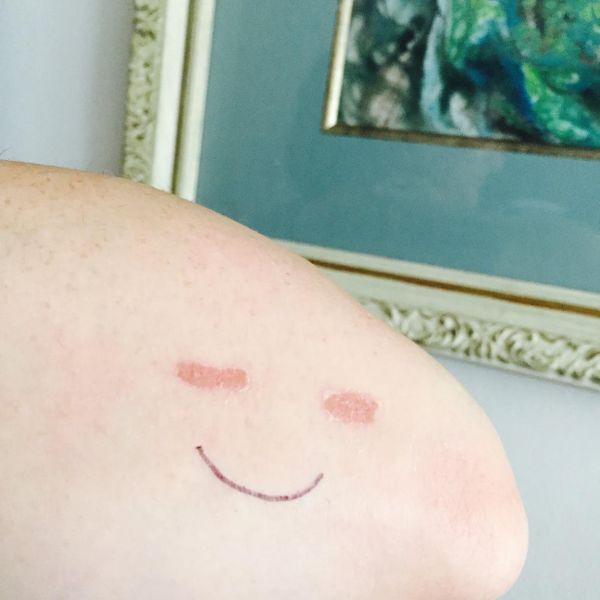 Rug burn. I've been taking my yoga and core classes through the plank challenge for the past few weeks. This week we got up to the five 35 second sets of walking planks which I've also seen called alternating hand planks…the ones where you go back and forth from a high pushup to a forearm plank. I feel like I could pop on a crazy German guard bra right now and it would feel comforting. Everything from my neck to lower rib cage hurts; the pain goes away for a second then picks back up from belly button to hip joint. The stuff below that feels great and so does my head. I don't know about Week 4 because it involves Spiderman kookery. I'm also the only one that got rug burn.